Skip to Content
Why Basement Waterproofing Requires A Pro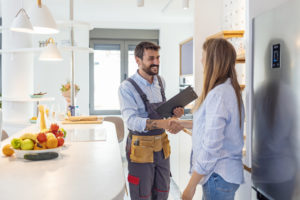 If you're a homeowner, you know that keeping up a house requires a good deal of maintenance and repair. It's logical to look for tasks you can do yourself, to save money on contractors and technicians. Some home maintenance chores you can easily complete on your own. However, basement waterproofing is not among them. If you want a basement that stays dry regardless of the conditions out, the job requires a professional.
Effective waterproofing options are complicated and time-consuming.

For exterior waterproofing, the ground around the basement must be excavated so that pipes known as drain tile can be installed at the base of the foundation. This requires a permit, and in many cases, only a licensed contractor is allowed to do this kind of work. When installing the drain tile, the contractor will also put it in a sump pit, either inside the house under the basement floor or in an outdoor location, usually under a window well. While the ground is excavated, the exterior wall should be repaired, patched, and sealed.
Inside the house, superficial measures aren't likely to be effective. Sometimes, the inside of a basement can be painted with an interior sealant, but those sealants are only useful on bare walls. A more comprehensive solution is an interior floor drain system, which involves excavating a trench along the basement walls and installing drain tile and a sump pit.

Hiring a pro is a safer option. Correctly waterproofing a basement requires a great deal of work that's potentially hazardous. Digging a seven or eight-foot trench around your foundation, for example, is a dangerous task. It requires the knowledge and experience of an excavation contractor who understands the risk of collapse and uses safe digging and trench bracing techniques. Further, professionals are licensed and insured, so that if any problems do arise, you're covered.
The money you spend on professional waterproofing is well-spent. Homeowners often choose to do the maintenance themselves as a way to save money. However, even though you might save a little bit of money upfront by purchasing your own materials and doing the work yourself, you run the risk of a subpar outcome. If your basement waterproofing is not done correctly, it can lead to damages in your basement that will require costly repairs later. Experienced, professional basement waterproofing contractors will do a high-quality job on your waterproofing, typically backed with a guarantee.
If your basement needs waterproofing, Reliable Basement Services can help. A family-owned and operated company, we've served the greater Chicagoland area for more than ten years. We offer a full spectrum of basement services, charging reasonable rates for work that includes crack repairs, sump pump systems, basement waterproofing, basement windows, and floor repair. Our consistently high standards have made us an award-winning Chicago basement waterproofing contractor and earned us thousands of satisfied customers all over Chicago. For more information, call (630) 318-4888 or visit our website for a free quote.
What Are You Waiting For?
Schedule Your Free Inspection Today!