Skip to Content
When is the best time to have my basement waterproofed?
Is your basement waterproof? If waterproofing wasn't done during construction, it's important to have it done to keep your basement dry. Obviously, you want to do this before your basement has the opportunity to flood, but aside from that, when is the best time to have the basement waterproofed? We believe it's the summer, and here are some pretty compelling reasons why that's true.
In the summer, the temperatures are good for basement waterproofing. The high temperatures of summer are great for basement waterproofing because they allow coatings and sealants to dry more quickly. What's more, it's easier to shovel the dirt from around your house in the summer.
The ground isn't frozen in summer. This is a pretty obvious statement, but think about it and you'll see why it matters for basement waterproofing. When a company waterproofs your basement, excavation and drainage construction must be done. These are much easier to do when the ground is not frozen, and, as a result, will cost you less money.
Snow and moisture can cause water damage in the winter. Shoveling the soil around your house is a necessary part of basement remodeling, but when it's done in the winter, it can open your property to the possibility of water damage. This risk is decreased in summer, and, again, it's also easier to shovel the soil.
The humidity is higher in summer. When humidity levels rise, the moisture in the basement rises too, inviting issues like mold and mildew. It also reduces your indoor air quality, making the basement air smelly and stuffy. Your air conditioner will have to work harder to clear the air, but this can be fixed by waterproofing the basement.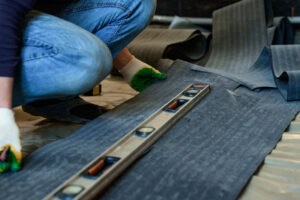 When you're ready to waterproof your basement, make sure you find a company that's reliable and experienced. If you live near Chicago, you can trust Reliable Basement Services to make the process of waterproofing your basement hassle-free, no matter what time of year you decide to do it. A family-owned and operated company, we've served the greater Chicago area for over a decade. We offer a full spectrum of basement services including crack repairs, sump pump systems, basement waterproofing, basement windows, and floor repair. Our consistently high standards have made us an award-winning Chicago basement waterproofing contractor, so call us at (630) 777-0539 or visit our website.
What Are You Waiting For?
Schedule Your Free Inspection Today!