Skip to Content
Sneaky Signs You May Have Foundation Issues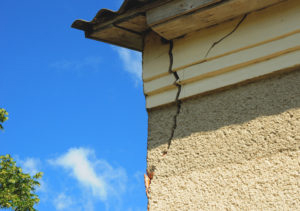 Sometimes, foundation problems are dramatic. Your walls might lean, your floors might slope, or you might notice a major crack. Often, though, the signs are much more insidious, and they may even look completely harmless. Here are some sneaky signs to look out for, before they become a major problem.
Cracks in the exterior of your home: Fine, small cracks on the exterior walls or the steps are probably nothing to worry about. Keep an eye on them, because they might be the start of something bigger. Large cracks are definitely concerning, as cracks with a zig-zag pattern. Cracks in bricks or bricks that protrude from the wall are a sign that you need to call in a professional as soon as possible.
Cracks inside your home: If the interior sheetrock has zig-zagging cracks, it's a problem, particularly if they run nearly the entire height of the wall. Wallpaper pulling away from the wall, or cracks where the wall meets the ceiling also signifies that your foundation needs help.
Doors and floors that seem out of whack: A door that's not square with cracks in the ceiling above it means it's time to call for help. Uneven floors may be a concern if they slope more than an inch or two every 15 feet.
Door frames and windows that pull away from the brick: The foundation is in serious trouble if your door or window is separating from a brick wall.
Rotten piers and beams: These don't always indicate a bad foundation, but they're never a good sign. If they don't point to foundation issues, they're probably the result of a basement with too much moisture or an insect attack.
Floors that feel like a trampoline: If your floors bounce when you walk, they could be rotten. It may not be indicative of foundation trouble, but it warrants a call to a professional so that it can be checked.
Cracks in your tile: Don't panic, because many things can cause the tile to crack. Still, if you see a number of cracks, it could be a sign of foundation trouble.
Separated expansion joints: Expansion joints allow for a little bit of movement when the house shifts. When they fail, they can damage the foundation, but if the foundation is already in trouble, it can cause the expansion joints to fail.
Nails that aren't right: Nails that pop out of your drywall indicate a problem with your foundation.
Reliable Basement Services can help with your foundation woes. A family-owned company serving the greater Chicagoland area for more than ten years, we offer a full spectrum of basement services, charging reasonable rates for work that includes foundation repairs, sump pump systems, basement waterproofing, basement windows, and floor repair. Our high standards have made us an award-winning Chicago basement waterproofing contractor and earned us satisfied customers all over Chicago. For more information, call (630) 318-4888 or visit our website for a free quote.
What Are You Waiting For?
Schedule Your Free Inspection Today!